I-90 and Division Gateway Design Plans
Wednesday, July 1, 2015
Summary of Project
During the summer of 2015, five highly visible locations at the I-90 east and westbound exits onto Division Street between 3rd and 4th Avenues were improved with artwork by native artist Virgil "Smoker" Marchand, pedestrian lighting, new sidewalk, basalt, evergreen trees, street trees and colorful plantings.
Project or Initiative Sponsor
City of Spokane
What and Why
Project Benefits: The Division Street exit off I-90 establishes a first, and often lasting, impression of the City of Spokane for hundreds of thousands of tourists, residents, business travelers and potential investors. Improvements are intended to reverse the previous state of neglect and reflect some of the desirable qualities that attract people to Spokane.
The End Result: Many have noted that visitors exiting at Division may not even be aware of Spokane's most important asset, the Spokane River and Falls; and there is strong support for developing a river "theme" along this corridor. The landscape and art improvements begin a story about the community's relationship to a dramatic river. It is expected that future art and improvements will continue to strengthen that storyline.
Special Note: An inscribed stone honors the Associated Garden Clubs of Spokane. This group was one of the first to step up to the challenge of improving the Division Street exit area.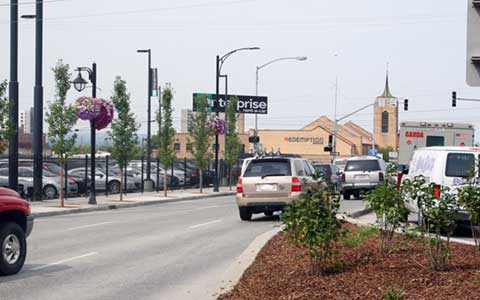 Get Involved
How will the public be involved: If you are interested in assisting with funding or maintenance please let us know. We are working on identifying a permanent location to recognize sponsors.
Property and business owners along Division can help by putting your best face forward. At a minimum, please keep the sidewalks in front of businesses swept clean and weed free.
This is just the beginning of efforts to change Spokane's image at the city gateways. Please contact us with any funded ideas that will continue building on these improvements.
Background
The following plans, reports, design guidelines, and regulations apply.
Related Projects
Related Documents